Léann Herlihy
Born 1994, Irlandia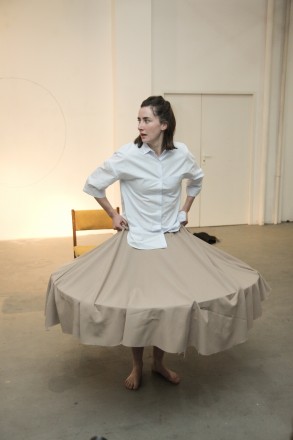 The artist studied at the Sculpture Department at the National College of Art & Design (NCAD) in Dublin (2012–2015) and at the Performance Art Studio at the Faculty of Sculpture and Spatial Activities, University of the Arts in Poznań. Herlihy has participated in a range of exhibitions and festivals, such as "SANDMAN", the Complex, Dublin; "Being in Public", Custom House Square, Belfast; "Ban an T", Chocolate Factory, Dublin; "The Touching Contract", Rotunda Pillar Rooms, Dublin; International Art Festival "Interactions", Piotrków Trybunalski; "Performance Art Meetings", Labirynt Gallery, Lublin.
Her practice attends to the intersection of invisible power structures, addressing the position of the female body as a focal point of repressed histories and political desires. Herlihy's performances are raw, as she pares back her gestures to pure bodily instinct and improvisation. The use of endurance in Herlihy's practice highlights the exaggerated protraction of time, which becomes enhanced by the symbiotic relationship with the audience, where the very act of their continued observation, in itself
becomes a ritualised behaviour.
Website: www.leannherlihy.com
***
photo: Mariusz Marchlewicz