Nigel Rolfe
Born 1950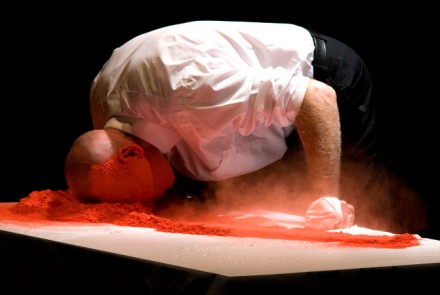 Nigel Rolfe is recognized as a seminal figure in performance art, in its history and among current world practitioners.
Born in the Isle of Wight in 1950, Nigel Rolfe lives and works in Dublin, Ireland. He works with many media – video and photography and sound – and for the past thirty years he has made performances throughout Europe, the former Eastern Bloc, North and South America and Japan.
Retrospectives of his work have been held at the Irish Museum of Modern Art, Dublin, and the Musée d'Art Moderne de la Ville de Paris. He has exhibited in the São Paulo, Busan and Gwangju Biennales and shown work in many Art Fairs. His work is represented by galleries in Dublin, Paris and New York. In 2008 he made numerous one person and group exhibitions. There are many articles and publications of his work.
He has lectured at the Royal College of Art since 1982. He is a senior visiting critic to postgraduate courses in the US and Europe. He was visiting professor in Sculpture at Yale University and visiting professor in Fine Art at the RCA.
Nigel Rolfe is appearing at the Performance Platform Lublin 2014 festival as a special guest.